Salon specific Booking Apps
An appointment scheduling application eases the work-flow in any SMB suit and there is no reason why being a hairstylist you wouldn't need one. There are many scheduling applications to choose from either, generic scheduling apps or vertical-specific apps which ever suits you most. Here is a list of software to help you choose from the most popular and effective ones:
Vertical Specific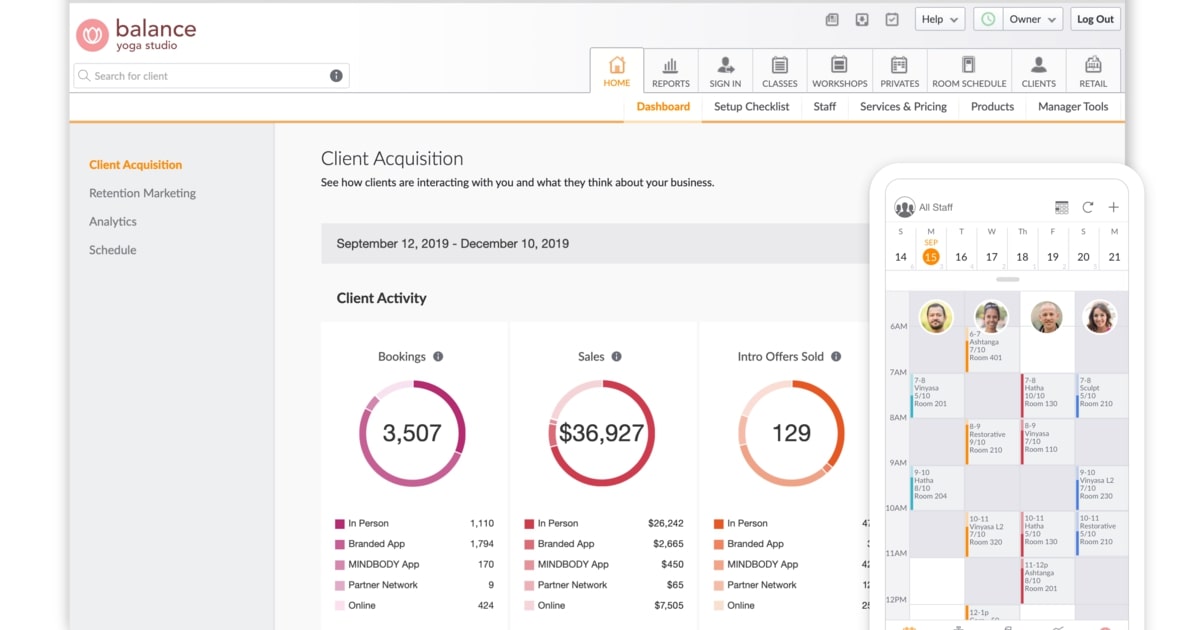 Mindbody is a powerful application for all SMB and enterprise suits in the health care sector. What makes it so comprehensive as a scheduling app for businesses is the Billing & Invoicing, Employee Management, Inventory Management, CRM integration, and expense tracking features beside generic appointment scheduling aspects. Room Booking Management, Online Payments, Multi-Location, Client Database, and Recurring Appointments are the cherry on top. However, they have no free version, and the paid version benefits cost 129$ subscription fees per month following a free trial.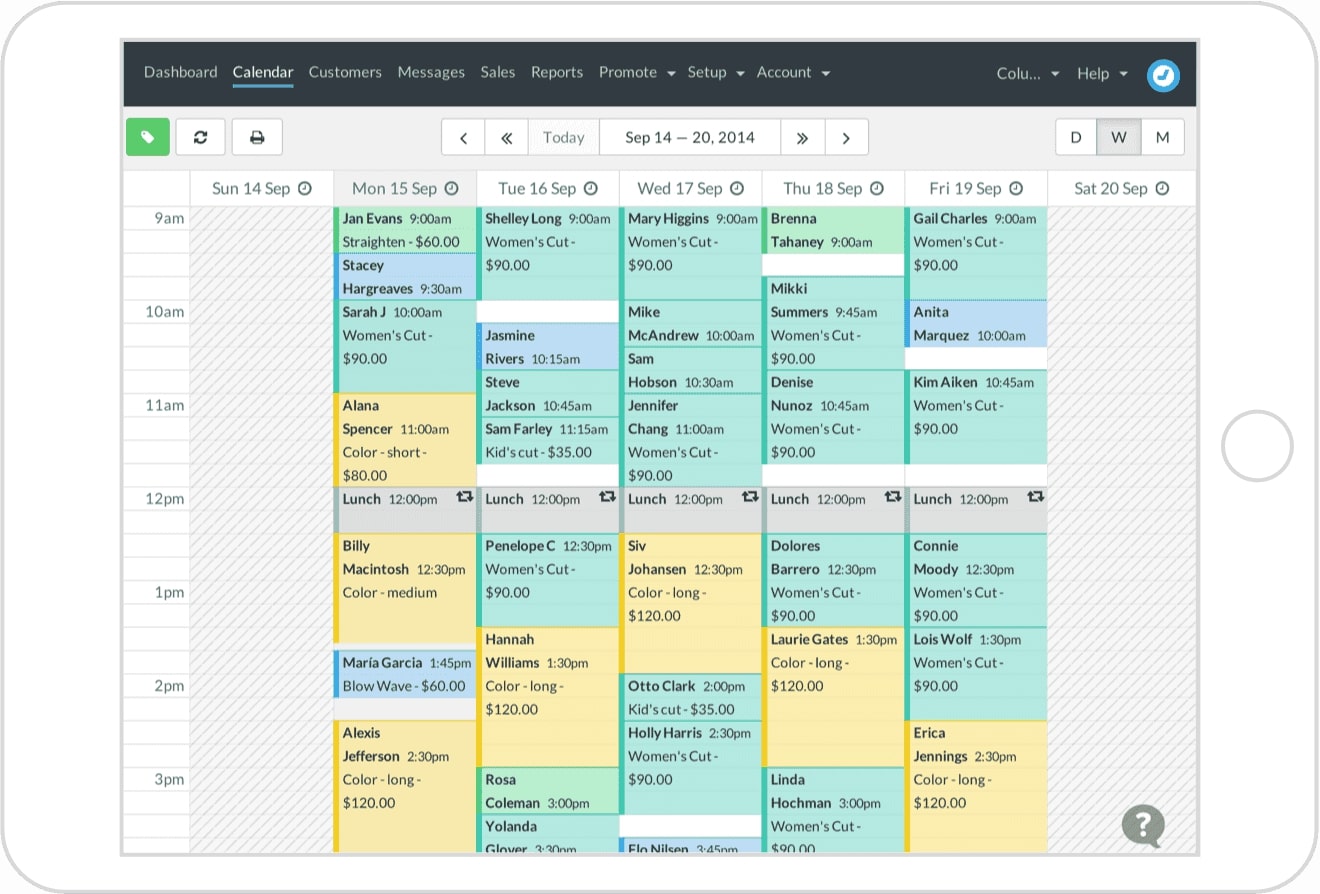 Gettimely leverages their expertise in scheduling in the salon and health care sector by regularly upgrading their app to fit the present market trends. Apart from the features of calendar management, client dealings, marketing, and sales and payments, Gettimely also allows integration with Xero, WordPress, Mailchimp, Afterpay, Paypal, Quickbooks, and vend. Furthermore, they also manage your inventory and employees besides the features of multi-location and dashboards. It has no free version, but the paid versions allow a free trial. The paid version starts at 15$ for a solitary user.
General Scheduling Apps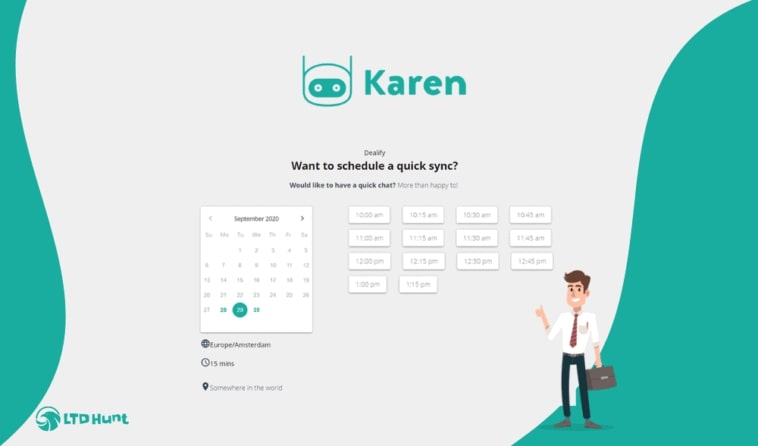 Karen is a 24x365 hours online facility that offers clients appointment booking facilities and make payments as and when they are comfortable. With Karen, clients can send reminders through text or email alerts and control the no-show ratio. It also tracks the number of appointments per week, missed and canceled bookings, a new addition to the client base, and much more. One specific advantage of using this app is that it is both an appointment booking app and a meeting scheduling app, i.e, it suffices both as a personal tool and a vertical tool. Karen has a free version, and the paid version starts at 8$ per user/month.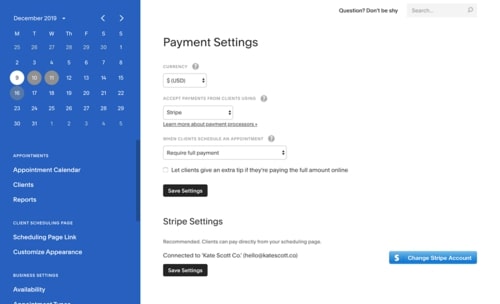 Acuity Scheduling is another effective solution to your search for an alternative. Acuity takes care of appointment scheduling, customized replies, client management, text reminders, and many more. Besides embedding on the website and sharing through emails, it also allows sharing your calendar through your social media accounts. Integration with Paypal and Stripe accounts allows smooth transactions for your appointments. Acuity plans start at 15$ per month for Emerging, 25$ for Growing, and 50$ for the Powerhouse.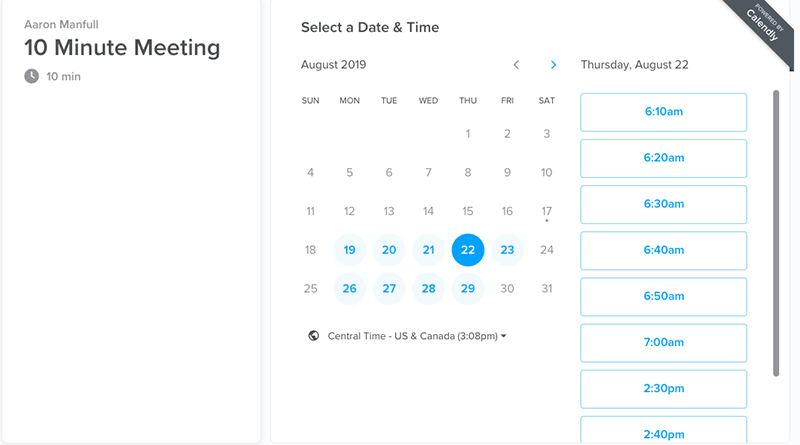 Calendly lets you customize your meeting slots by providing details such as a 30-minute meeting or a round-robin, a group, or a one-on-one. It syncs with your calendars such as Google, Outlook, or Yahoo and keeps your timetable up to date. Your clients can then choose from these options to book a meeting or schedule an appointment and pay through the integrated PayPal or Stripe accounts. Calendly has three plans, a free Basic plan, a Premium for 8$ per month, and a Pro for 12$ per month.