##Features Of a Personal Scheduling App
There are several applications that you can use for personal use, such as Calendly, Doodle, and Woven. Apart from user accessibility and The main features to look for in an appointment scheduling app while choosing for personal use are tools like a to-do list, and automatically follow-ups, shared calendars, dashboards, price, and security are also vital aspects to consider. The Google Calendar is also a convenient choice for personal use and simple integrations.
When choosing for sales or business purposes, you should look for apps that have features like appointment slots, automated confirmation, and reminders, integrated video calling, payment portals, CRM integration. Additional features like custom booking forms, automatic time-zone conversions, and branding or white labeling may improve your experience.
Some of the best tools for Business purposes are Karen, Cronofy, Demodesk, Meetingbird, Zoho, and HubSpot. These applications drive their competitive advantage not just by adding appealing features but through several integration support, security, and a comprehensive user experience.
Karen App as a scheduling tool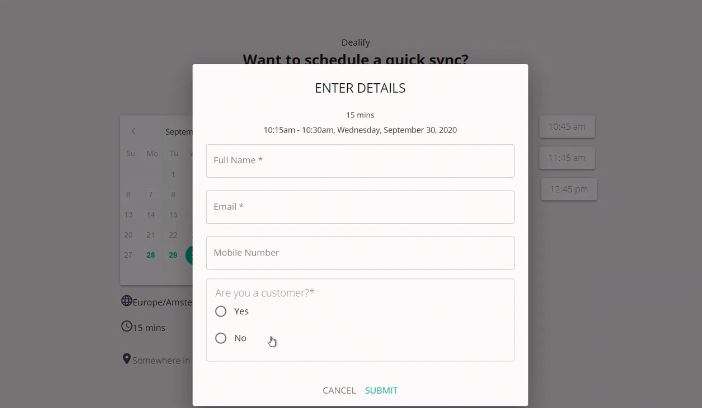 Karen is a 24x365 hours online facility that offers clients appointment booking facilities and make payments as and when they are comfortable. With Karen, clients can send reminders through text or email alerts and control the no-show ratio. It also tracks the number of appointments per week, missed and canceled bookings, a new addition to the client base, and much more.
One specific advantage of using this app is that it is both an appointment booking app and a meeting scheduling app, i.e, it suffices both as a personal tool and a vertical tool.