Scheduling Apps for MAC
Several apps integrate with Office 365 Outlook on Mac and Windows. However, what is best depends on several other factors such as if you are looking for a vertical specific app or a generic application will suffice your needs. Further you must consider the user interface, security, and additional features that elevate your scheduling experience. When looking for a scheduling app, whether you require an appointment booking or a meeting scheduling application, the Karen App is a good option to consider.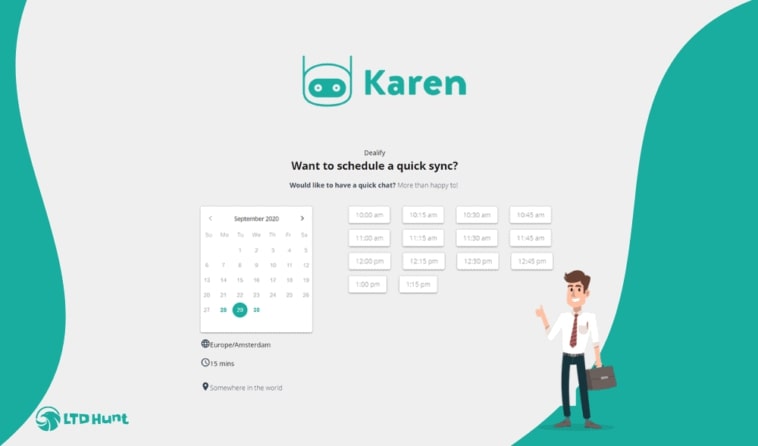 Karen is a 24x365 hours online facility that offers clients with appointment booking facilities and make payments as and when they are comfortable. With Karen clients can send reminders through text or email alerts and control the no-show ratio.It also tracks the number of appointments per week, missed and canceled bookings, new addition to the client base and much more. Furthermore, it caters to both appointment booking and meeting scheduling needs. Karen can be integrated with Zoom and Zapier to further scale its reach.
You can also share your schedule with several people using an appointment scheduling application like Karen. These applications function by pooling all your calendars and showing your availability at one place. All you have to do is have your calendars updated and leave the rest on the software. To share this pooled calendar with prospects you can embed the calendar on your website or create a separate single-page site and link it to the existing one, where people can see your schedule and book an appointment or meetings.
You can further create separate time slots for different categories and link your payment portals if you wish to charge for your appointments. Using a meeting scheduling application like Karen you can also create voting polls and share them with your prospects. The most voted time slot is then used for the meeting or a separate time slot as per your convenience.