Scheduling Apps With Text Reminder Options
Several scheduling apps have the feature of setting a reminder of the scheduled appointments and meetings. However, sending a reminder with SMS is a rare feature. The handful of apps that allow reminding with both email and SMS are Karen App, Calendly, and Zoho.
When an appointment is confirmed, the app immediately notifies the client about the scheduled time, and place through mail and SMS, given the client has provided their phone number. If it is an online meeting, it sends the meeting link along with the confirmation.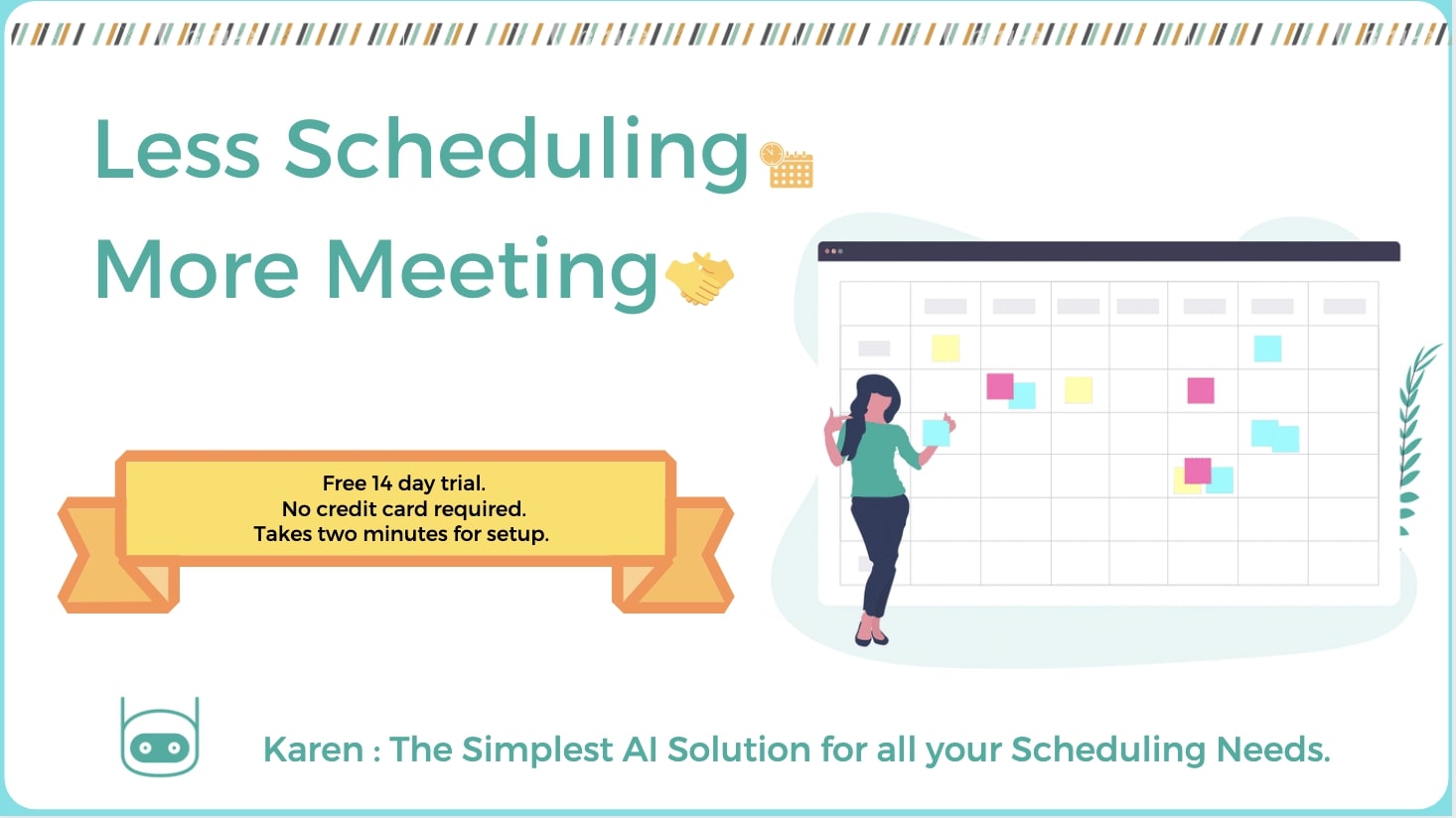 The Karen app, however, has many advantages over Calendly and Zoho, such as the voting poll. Calendly and Zoho are made only for appointment scheduling, whereas Karen has both features of an appointment and meeting scheduling application. Besides the generic features of an appointment and meeting scheduling, Karen has an automated robot that recites your entire schedule when asked. This feature mitigates the time wasted on going through calendars and dashboards back and forth to keep track of your meetings.
Besides sending Reminders and text or email alerts and controlling the no-show ratio, Karen is a 24x365 hour online facility that offers convenience to the clients. They can book appointments and make payments as, and when, comfortable with the inbuilt payment portal while all back end administrative tasks are well-taken care of by Karen.
Along with making your schedules available to your clientele, it also allows you to schedule shifts for your employees and teammates. Karen also provides maximum scalability in terms of customizing and white-labeling your unique URL for creating a strong brand image that not only gives you an online presence but also drives conversions.
Use the intuitive dashboard to analyze reports to get a statistical insight into all meeting activities. It tracks the number of appointments per week, missed and canceled bookings, a new addition to the client base, and much more. What's more, Karen has a free plan with features that suit most cases. However, for more scalability, you can upgrade your plan to Nest for just 8$ or to Hive for 18$ per month.