Most Popular Scheduling Apps
There are many scheduling apps that would suffice your requirements. However, since the market is swamped with competition, it also get harder to choose one from so many. Therefore, here is a list to narrow it down to the best in the market, based on the features and ease of handling.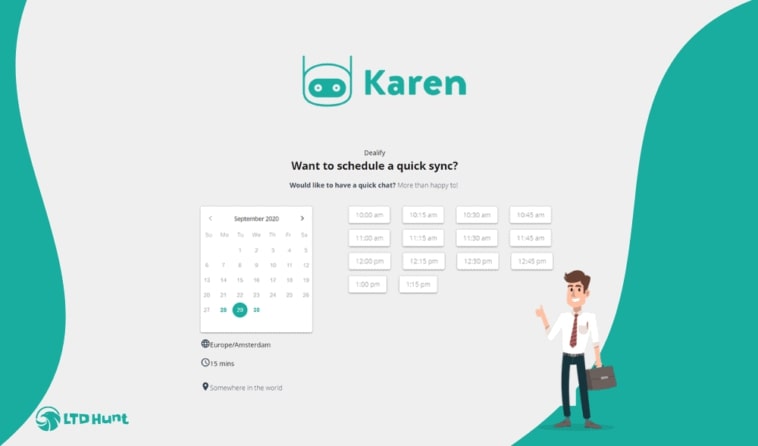 HubSpot syncs with Office365, Google, and the HubSpot CRM to keep your schedule up to date. It allows members to align meeting schedules by letting them access to view your availability. You can further use the app to let your prospects book Round-robin or Group Meetings. Using HubSpot further lets you track emails, use document tools for better client interaction, create and share meeting links and many more.
Calendly lets you customize your meeting slots by providing details such as a 30-minute meeting or a round-robin, a group, or a one-on-one. It syncs with your calendars such as Google, Outlook, or Yahoo and keeps your timetable up to date. Your clients can then choose from these options to book a meeting or schedule an appointment. It also has an integrated CRM to assist you with administrative and marketing tasks. Calendly has three plans, a free Basic plan, a Premium for 8$ per month, and a Pro for 12$ per month.
It synchronizes with Office365, Outlook, Gmail, iCloud, and MailChimp to align all meetings and provide real time availability. An intuitive dashboard shows analytical reports to get a statistical insight of the meeting activities. It tracks the number of appointments per week, missed and canceled bookings, new addition to the client base and much more to drive success for your business ecosystems. It was created keeping in mind all the needs and expectations of a SMB suit from education to salons and more.
Rally lets you create a voting poll to decide the best time for the majority of your employees and even lets them comment and discuss the time slot that fits best for everyone. With its user-friendly and intuitive digital interface, this web app is perfect for scheduling in-house meetings. What's more, Rally is completely free to use and it has all the features of a scheduling app piled into one.