Doodle App Replacements
There are several applications that can be substituted for Doodle and some even more advanced. It is a meeting scheduling application that has several unique features such as the voting poll and automatic reminders. However, there are several applications that were introduced later with similar features and better user interface that are considered good replacements for Doodle. Here is a list of applications that are the most popular among users: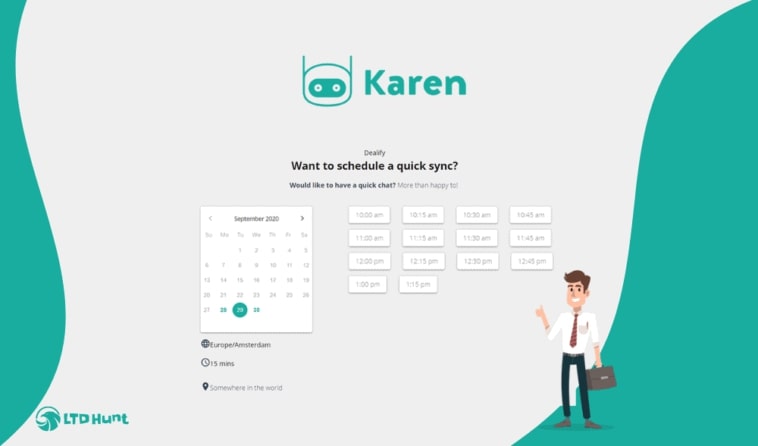 Karen is a 24x365 hours online facility that offers clients appointment booking facilities and make payments as and when they are comfortable. With Karen, clients can send reminders through text or email alerts and control the no-show ratio. It also tracks the number of appointments per week, missed and canceled bookings, a new addition to the client base, and much more. One specific advantage of using this app is that it is both an appointment booking app and a meeting scheduling app, i.e, it suffices both as a personal tool and a vertical tool. Karen has a free version, and the paid version starts at 8$ per user/month.
Calendly lets you customize your meeting slots by providing details such as a 30-minute meeting or a round-robin, a group, or a one-on-one. It syncs with your calendars such as Google, Outlook, or Yahoo and keeps your timetable up to date. Your clients can then choose from these options to book a meeting or schedule an appointment. Calendly has three plans, a free Basic plan, a Premium for 8$ per month and a Pro for 12$ per month.
Just like Doodle, this application lets you create a voting poll to decide the best time for the majority of your employees and even lets them comment and discuss the time slot that fits best for everyone. With its user-friendly and intuitive digital interface, this web app is perfect for scheduling in-house meetings. What's more, Rally is completely free to use and it has all the features of a scheduling app piled into one.
In HubSpot, the cherry on top is that the meeting tool syncs with both the calendar and the HubSpot CRM. It further allows members to align meeting schedules by letting them access to view your availability. The free CRM tools in HubSpot include contact management, contact website activity, companies, deals, tasks & activities, company insights, and Gmail and Outlook integration.