Outlook Calendar Integrations
Almost all meeting scheduling app converges with several online calendars including Outlook. Perhaps, Microsoft Teams is the scheduling app that best integrates with Outlook.However, since this is a generic feature, you might want to consider other facets like security, scalability and user interface before deciding which suits you best.
Some of the other most popular apps in the niche that provide pooling calendars from Outlook and more are Karen, Calendly, Zapier, and Acuity. Among the mentioned apps, Karen stands out with exclusive features like voting polls and AI that recites your schedules.
Karen is a 24x365 hours online facility that offers clients with appointment booking facilities and make payments as and when they are comfortable. With intuitive dashboards that track your progress, text reminders to mitigate no-show, easy booking and cancellations, Karen App ramps up the scheduling and managing experience.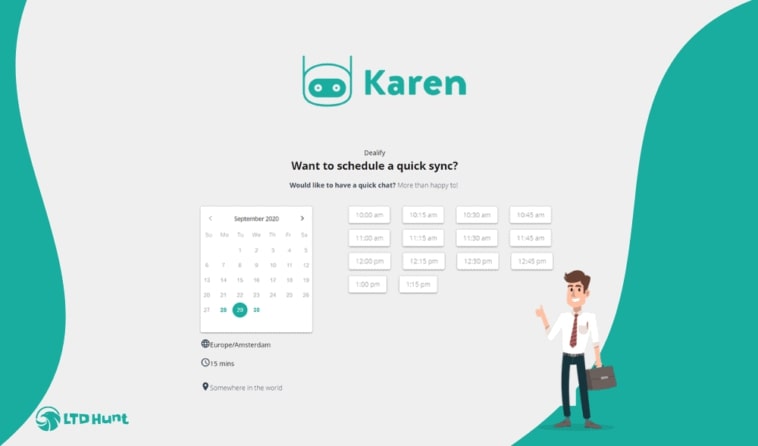 It synchronizes with Office365, Outlook, Gmail, iCloud, and MailChimp to align all meetings and provide real time availability. It tracks the number of appointments per week, missed and canceled bookings, new addition to the client base and much more to drive success for your business ecosystems.
What's more it was created keeping in mind all the needs and expectations of a SMB suit from education to salons and more. Besides, it offers a personal chat room for clients where you can easily communicate with them and send alerts, confirmations and reminders before and after the booking.
Furthermore, it caters to both appointment booking and meeting scheduling needs. It has a free plan that lets you book up to 20 appointments per month, and the paid plan starts at 8$ per month.