Popular Calendly Integrations
Calendly drives competitive advantage over its rivals by allowing integrations of several applications. Some of the most popular Calendly integrations are Zoom, Salesforce, Microsoft Teams, HubSpot, Zapier, Paypal, Intercom, Stripe, GoToMeeting, Google Analytics, and Calendly API.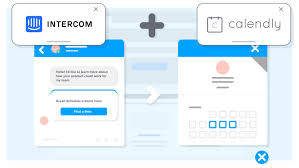 Zoom: You can set Zoom as your meeting location on Calendly Event, and it will automatically save the conference details in the apps calendar. It further enables your prospects and teammates to see all the booked timings and thus prevent any appointment overlaps.
Salesforce: Salesforce is perhaps the most sought after integration on Calendly. Combining Salesforce and Calendly automatically updates all meetings on the client's calendar and yours if you both are on the app. Moreover, the combined calendar helps you drive more sales and management benefits as it directs to more leads and opportunities.
Microsoft Teams: On merging the two apps, a Teams meeting gets added by default to the appointment whenever a prospect schedules a meeting with your company through Calendly. The entire automated process helps save tons of time since there are no further email and link exchanges needed.
HubSpot: Integrating HubSpot with Calendly prevents any double bookings. Whenever a client books an appointment through Calendly, it gets immediately updated on the HubSpot app, and if there are multiple meetings booked, it only modifies the time slot.
Zapier: Combining these two requires no advanced technical knowledge for coding. Easy integration automates the processes of setting reminders, and all other administrative tasks, thus helping you focus on your business objectives more than trivial operations such as scheduling appointments.
Paypal: Paypal is a universally accepted mode of payment, and it supports international transactions as well. Merging the two shall help to collect your payment for the Calendly appointments easier and frictionless. All you and your client need are to have a Paypal account and a setup account to carry out the transactions.
Intercom Messenger: Calendly for Intercom makes communication flow much smoother than any other integration. Your prospects can reach out through the messenger, book a meeting, and all get updated to your integrated platforms of Zoom and Salesforce without the hassle of sending back and forth emails.
Stripe: Stripe is a payment portal that also integrates with Calendly for transaction purposes. Stripe accepts payments through both credit and debit cards, which makes it quite popular among many other similar apps.
GoToMeeting: Merging Calendly with this app makes it easy to set up virtual meetings that get updated on the apps calendar without separately making an event. This process is done simply by choosing GoToMeeting as your meeting location while booking an appointment through this app.
Google Analytics: Integrating Calendly with Google Analytics helps you better track your website traffic and business sales. Analytics records a Calendly appointment as a conversion while the visits to your pages reflect as traffic on the analytic dashboard. It shall help you better analyze the records and result from your webpages.