Scheduling Apps as Productivity Boosters
The main motive behind a meeting scheduling application is to make the meeting scheduling process easier and less cumbersome. Traditionally, aligning client schedule and arranging a meeting demanded several back and forth emails, messaging and phone calls and definitely a lot of time. With a meeting scheduling app, all these back-end administrative processes are automatically taken care of and thus saves both time, money and client relationships.
Meeting scheduling apps generally consist of features like calendar syncing, inbuilt messaging, scheduling platform, robust security and easy to use. Some of the latest features include voting polls, integration with several other apps, payment portals and branding. Some of the most sought out and effective applications of the niche include the following: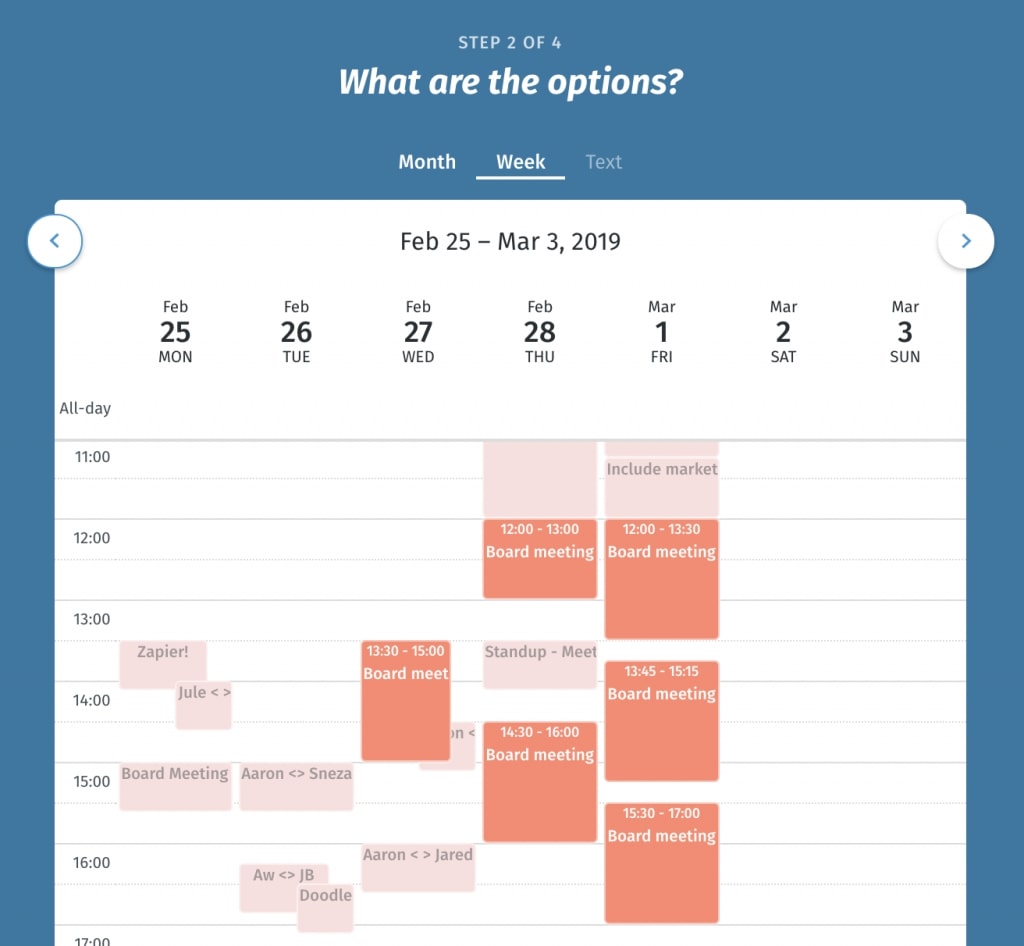 Karen App stands at the top of the list when it comes to meeting scheduling applications. However, what makes it stand out is its ability to both conduct meetings and act as an appointment scheduling application. It provides a detailed structure about availability and accessibility of staff personnel and the venues of meeting and offers calendar syncing with Office365, Outlook, Gmail, iCloud, and MailChimp. Its intuitive dashboard provides Analytical reports to get a statistical insight of the meeting analytics. What's more,you can ask, "How does my day look like?" and it answers all your schedules, saving you the hassle of juggling through the dashboards and calendars repetitively.
In HubSpot, the cherry on top is that the meeting tool syncs with the calendars, Office365, Google, and the HubSpot CRM to keep your schedule up to date. It allows members to align meeting schedules by letting them access to view your availability. You can further use the app to let your prospects book Round-robin or Group Meetings. HubSpot also provides a WordPress plugin and the ability to embed it on your website. HubSpot also has a free Basic Plan and a Starter Plan of 50$ per month.
Acuity Scheduling is another effective solution to your search for an alternative. Acuity takes care of appointment scheduling, customized replies, client management, text reminders, and many more. Besides embedding on the website and sharing through emails, it also allows sharing your calendar through your social media accounts. Integration with Paypal and Stripe accounts allows smooth transactions for your appointments. Acuity plans start at 15$ per month for Emerging, 25$ for Growing, and 50$ for the Powerhouse.
Woven:
This comprehensive package comes with all features you might want in a scheduling app. It also lets you hold your meetings through any meeting scheduling app you prefer. You can add unlimited accounts, share scheduling links on your website, and customize the interface with Wovens Basic Plan. Plus, you can carry out group polls to decide on group meetings. Woven offers a basic free plan and a seven day free trial for their premium subscription.
Calendly
Calendly lets you customize your meeting slots by providing details such as a 30-minute meeting or a round-robin, a group, or a one-on-one. It syncs with your calendars such as Google, Outlook, or Yahoo and keeps your timetable up to date. Your clients can then choose from these options to book a meeting or schedule an appointment. Calendly has three plans, a free Basic plan, a Premium for 8$ per month, and a Pro for 12$ per month.
Rally
This application lets you create a voting poll to decide the best time for the majority of your employees and even lets them comment and discuss the time slot that fits best for everyone. With its user-friendly and intuitive digital interface, this web app is perfect for scheduling in-house meetings. What's more, Rally is free for all, and it has all the features of a scheduling app piled into one.
The best part of this application is that one does not need a separate account for setting a meeting through Meetingbird. All you need is a Google account or an office 365 to schedule appointments here. There is a Meetingbird Chrome extension that is tandem with Gmail if you plan to use mails for scheduling. The app is also compatible with the video conferencing app Zapier. Meetingbird is a completely free application.