Apps with Email and SMS Notification Features
Sending both email and SMS notifications is rare in scheduling apps, and only a handful of them has this feature. Scheduling apps with SMS notification features include Karen, Calendly, and Zoho meetings, and all three applications allow you to send reminders and confirmation messages through both emails and SMS. Besides, the sender can also choose to customize the text in these messages before sending them.
Karen app is a highly developed meeting scheduling software that supports both one on one and group scheduling. It also has the features of adding voting polls and syncing calendars while scheduling a meeting.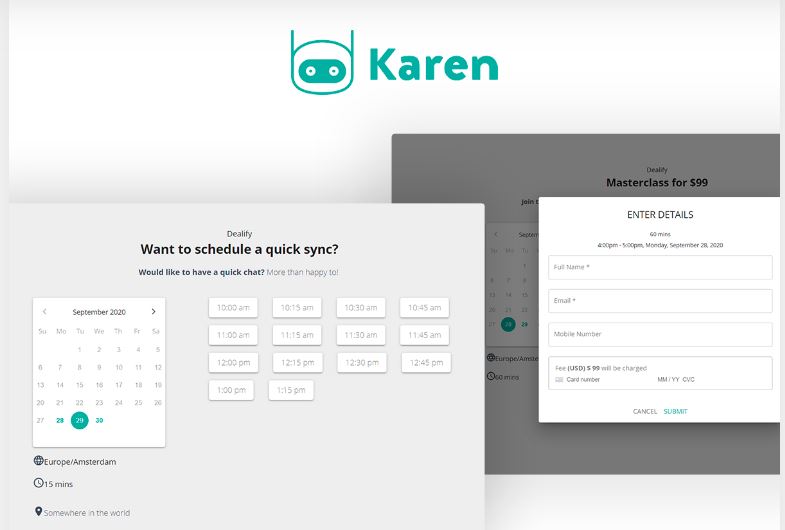 With Karen, you can integrate your Zoom and Zapier accounts to create smooth experiences among your client and team mates. Karen has the exclusive feature of creating week-long events and personalizing them as per client needs.
Some of the other vital features of the app include automated reminders, letting your customers book and cancel the appointment as they like, online payments, intuitive dashboards, and taking care of the administrative tasks. What's more, it syncs with all the online calendars such as Office 365, Google Calendar, Outlook, and many more.
Another exclusive feature of Karen App is that you can ask, "How does my day look like?" and it answers all your schedules, saving you the hassle of juggling through the dashboards and calendars repetitively. Plus, you can set everything from availability to bill rates per meeting to make the process more frictionless.