Scheduling Apps With Wordpress Plugins
There are only a handful of apps that provide free plugins for for Wordpress. These plugins can be used to create widgets that can be embedded on the Wordpress website for prospects to view. Adding a widget to your website makes it easier for clients to book meetings or appointments without having to leave the site.
Karen App is one such website that allows integration of a widget with their plugin. This lets the user to display their calendar on their website showing availability, pricing and events. They can also create time slots of 15 to 30 mins and display that for their clients. Karen also has an integrated payment portal that makes collecting service fees easier.
To use the Karen app plugin upload it to your blog or website and active the plugin. Customize the page by either editing a creating a new page to place your widget. Add the schedule on this page by using the button 'Add karenapp schedule' above the text area and your widget is up and running.
To avail the benefits of the Wordpress plugin, one only needs to have an active account on Karen App. What's more this feature is available to all free plan users. Some of the other vital features of the app include automated reminders, letting your customers book and cancel the appointment as they like, online payments, intuitive dashboards, and taking care of the administrative tasks.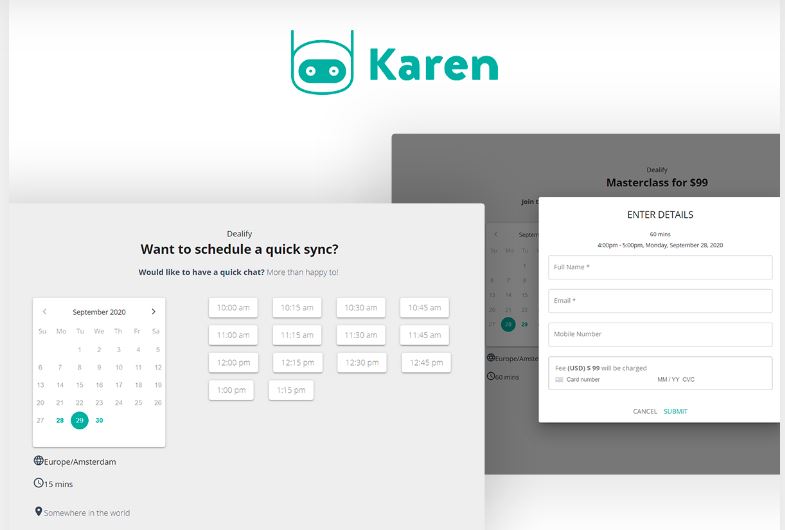 Karen is a 24x365 hours online facility that offers clients with appointment booking facilities and make payments as and when they are comfortable. With Karen clients can send reminders through text or email alerts and control the no-show ratio.It also tracks the number of appointments per week, missed and canceled bookings, new addition to the client base and much more.
Karen App stands at the top of the list when it comes to meeting scheduling applications. However, what makes it stand out is its ability to both conduct meetings and act as an appointment scheduling application. It provides a detailed structure about availability and accessibility of staff personnel and the venues of meeting and offers calendar syncing with Office365, Outlook, Gmail, iCloud, and MailChimp.
Its intuitive dashboard provides Analytical reports to get a statistical insight of the meeting analytics. What's more,you can ask, "How does my day look like?" and it answers all your schedules, saving you the hassle of juggling through the dashboards and calendars repetitively.
With Karen, you can integrate your Zoom and Zapier accounts to create smooth experiences among your client and team mates. Karen has the exclusive feature of creating week-long events and personalizing them as per client needs.
What's more it was created keeping in mind all the needs and expectations of a SMB suit from education to salons. It has a free plan that lets you book up to 20 appointments per month, and the paid plan starts at 8$ per month.