Virtual Desktop Solutions
Zoom supports Citrix or VMware VDI solutions for delivering access controls to the end-point user. A VDI is a Virtual Desktop Infrastructure that allows you to share an image of the desktop over the network. User's at the end-point may be a PC, a thin client or a mobile device which can now access the server desktop from a remote location.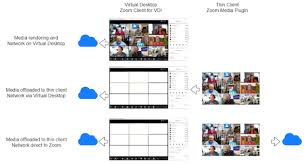 To Host a Zoom meeting from a server computer remotely, you need to install two things. First, one must install the Zoom desktop client on the VDI, and second, the Zoom media plugin is installed on all thin clients remotely using the VDI.
However, this feature is permitted to only the ones using Citrix XenDesktop or VMware Horizon server published desktop. Also, using Zoom as a published app is not yet allowed by the company.