Upgrading the existing Zoom Plan
If you are on a Pro Plan, you can easily upgrade to the Business Plan or upgrade the add ons from the Zoom web portal. However, if you seek to upgrade to the enterprise plan, you shall have to contact sales. To upgrade your plan, navigate to the Accounts Management section of your profile and hover to the Billings section.

Under the Current Plan, there is the option to upgrade the plan. On selecting the Upgrade Plan, it redirects to the page with Plan details. Select Business Plan here, and this will open the payment portal. Select the required number of hosts and the monthly/annually billing options to proceed with payment.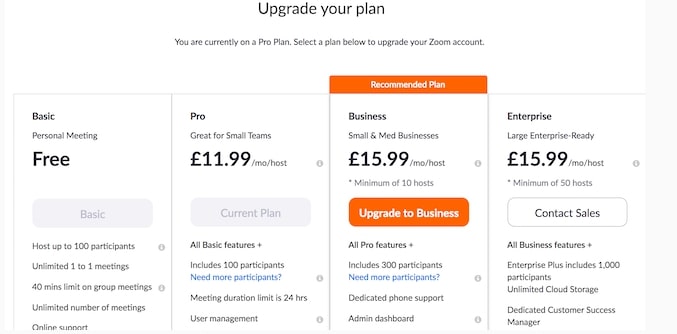 Click on continue, reevaluate the plan details and payment on the next page, and select Upgrade Plan to continue. Select Confirm Purchase to finalize your plan, and you will receive the confirmation via messaging. Given the upgrade takes place in the middle of the existing subscription, Zoom releases a prorated amount for the remaining days of your current plan, and this credit gets utilized for the upgraded plan.