Managing Zoom Account Members
To unassociate a member account and convert to an individual account, the prerequisites are to be a subscriber of a Pro, Business Plan, Education Plan, Enterprise Plan, or API Partner in the Zoom account. If all above matches your criteria follow the below steps to unassociate and convert to an individual basic account holder.
Sign in to your profile on the web portal. navigate to the Account Management section and select Account Profile. Select the option Unassociate and create your own account written in blue under all the Basic Information.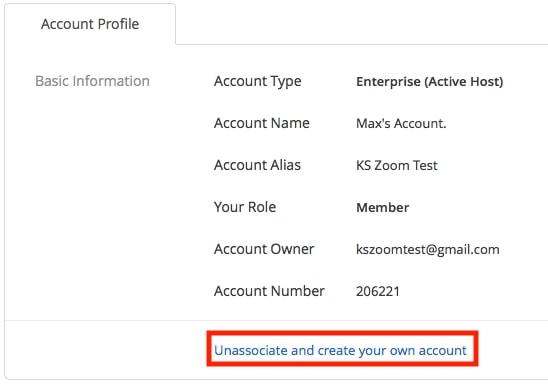 A dialogue box appears to confirm if you want to unassociate. Select yes on this and proceed. The page redirects to the account profile and a message flashes displaying you have successfully unassociated your account.