Adding members to your Account
If the Zoom account belongs to you, you can apply the settings to assign several roles to other users, given that you have purchased the required licenses. For a Pro Plan, you can own up to 9 host licenses from a single account. A Business Plan allows 10-99 host licenses per account, and an Enterprise Plan allows 100+ host licenses. However, if you are on a free plan, you get only one host per account. For Webinar Plans, you can buy host licenses separately. If all said is done, follow the steps below to assign roles to other users.
Sign in to your account from the web portal.
Navigate to User Management and follow Users.
Select the user you want to help manage your account.

Select the Role button to make changes.
Choose the role from the displayed options.
Click the save option to update your settings.
You can further change the permission of the roles to limit their authority.
Locate Role Management under User management.
Select edit to change permissions of the desired role.
Check the boxes you want to add in their permissions or uncheck the ones you want to remove.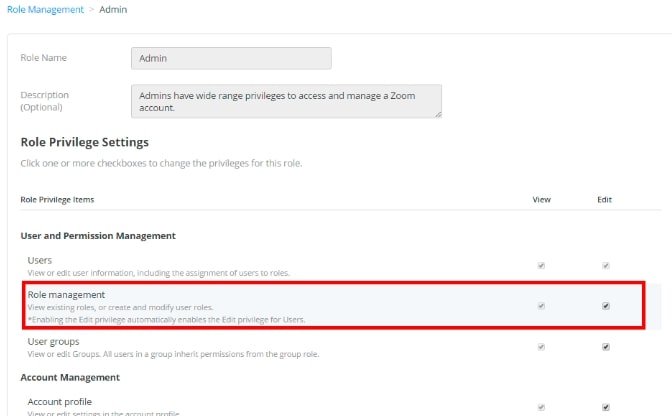 Select Save to finalize the changes.